Entitlement in its simplest form is about enabling/disable product features. In addition to that, SLASCONE's licensing core provides limitations, which are numerical values used in order to restrict the scale of some operations e.g., maximum number of users or jobs.
Limitations can be used/interpreted by the client application in two ways:
Static: In such case, the limitation constitutes a global restriction, regardless of usage patterns, e.g., maximum number of documents that can be stored in a database. It is the client's responsibility to ensure compliance of this limitation.
Consumption-Based Quota: In this case, the limitation constitutes a consumption-based quota, that resets periodically. For example, the license allows the creation of 10 documents monthly. SLASCONE tracks the consumption of this quota and informs the client when the quota is depleted.
DEFINING A CONSUMPTION-BASED LIMITATION
Whether a limitation is static or consumption-based, is defined in the license. In case of consumption-based, you have to additionally define the reset mode:
Lifecycle: In this reset mode, the defined quota, for example 10 documents, does not reset, which means once the 10 documents have been created, SLASCONE informs the client, that no more are allowed. This mode is typically used in trial licenses.
Periodical (number of days): In this reset mode, the quota is reset every n days.
First day of month/quarter/year: In this reset mode, the quota is reset on the first day of the next month/quarter/year.
CONSUMPTION MONITOR
The vendor portal provides an overview of the consumption and the actual balance: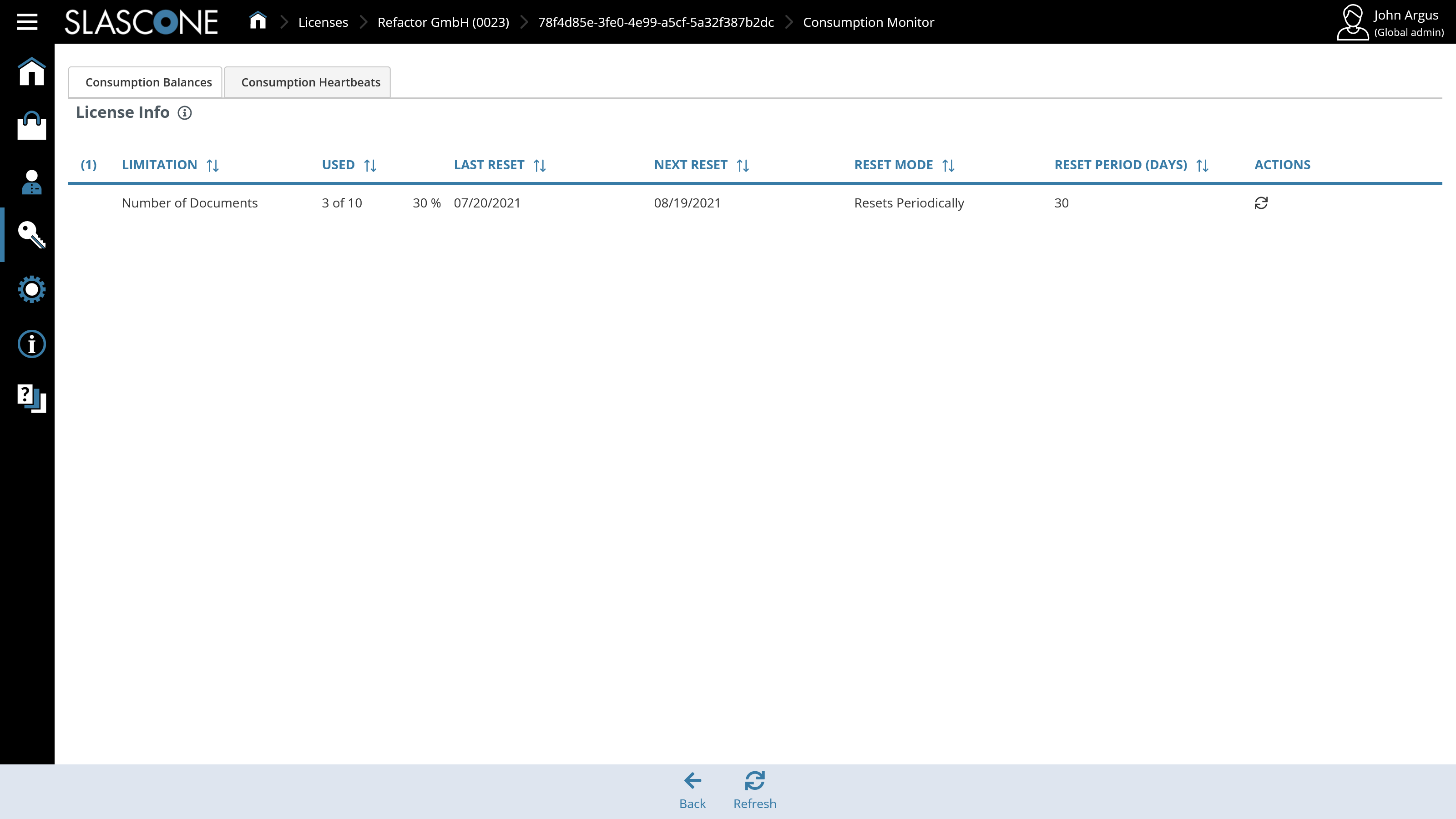 CLIENT/API CONSIDERATIONS
VALIDATION
In such scenarios, before the client tries to execute an action controlled by consumption limitation, it should check if there is enough quota. The following method, returns this info.
POST /isv/{isv_id}/provisioning/validate/consumption
CONSUMPTION HEARTBEAT
Upon successful completion of an action controlled by consumption limitation, the client has to send a consumption heartbeat to SLASCONE:
POST /isv/{isv_id}/data_gathering/consumption_heartbeats